Cora Venus Lunny 
Mendelssohn, Violin Concerto in E minor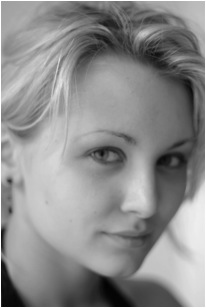 Saturday 14 November 2009
Christ Cathedral Dublin
Saturday 29 November 2009
Wexford Opera House
Biography
Established as one of Ireland?s leading classical musicians since her teens, Cora Venus Lunny enjoys an active career as a soloist, chamber musician, interpreter of contemporary classical music, improvising violinist and composer.
Described as ?one of the most extraordinary talents [Ireland] has ever produced? by broadcaster Gay Byrne, ?astonishingly talented? by critic Michael Dervan, she continues to make her distinctive mark on all genres of music she comes in contact with.
Born into a musical family of Irish and German parents in Dublin, Cora Venus was given her first violin at the age of three, immediately showing a natural aptitude and love for the instrument, and a life in music became her goal.From the age of thirteen, she studied intensively with highly respected violinists around Europe, including Rimma Sushanskaya, Joji Hattori, Alexander Arenkov, Arkady Futer, Lara Lev and Vladimir Spivakov.
Cora Venus has performed at all of Ireland?s major concert venues ? both in the Republic and the North ? including the Waterfront Hall, Belfast and the Point Depot in Dublin. Her concerto performances in Northern Ireland, which included the Shostakovich Violin Concerto No. 1 with the Ulster Orchestra, were received with great acclaim. Since her first performance on live national TV at the age of five, she has recorded for numerous TV and radio channels in Ireland and the UK, and her debut at the Kremlin was publicised on Russian radio & TV. Aged sixteen, she became the youngest ever RTE Musician of the Future, and The Irish Times chose her to front their TV ad campaign representing the new face of Ireland. In 2001, she was a laureate of the Sarasate International Violin Competition, to which she returned as a jury member in 2007.<
In 2002, Cora Venus was a guest musician on Sinead O?Connor?s album of traditional Irish songs, ?Sean Nos Nua,? her first excursion into the truly ?non-classical? world. This inspired her to improvise more and experiment with other genres of music. A few months in Vienna among the classical establishment became an unintentional sabbatical, and confirmed for Cora that despite her love for classical music, she needed to broaden her musical horizons.
Cora?s involvement over the past few years with MIT Media Lab, playing Tod Machover?s Toy Symphony on the Hyperviolin, has taken her to Berlin (playing with the Deutsche Sinfonie Orchester Berlin under Kent Nagano), Boston and NYC where she performed with the Boston Modern Orchestra under Gil Rose.
Between 2003 and 2005, Cora Venus performed concertos by Bruch and Beethoven in the North and Republic of Ireland.A jam with the renowned violinist Nigel Kennedy in Dingle in the summer (for Philip King?s broadcast documentary) resulted in him inviting her to Berlin to play with his band Polish folk music and a bit of Jimi Hendrix. Subsequently, Cora Venus accompanied Kennedy on a tour of Taiwan, Japan and New Zealand as second soloist, playing Vivaldi?s Double Concertos and Bartok. Cora?s musical travels took her as far as Iceland and the Faeroe Islands, and saw her make her first foray into film score composition.
A highlight of the 2005 season was Cora?s first live performance on viola when she appeared in duo with the legendary Vladimir Spivakov in Mozart?s Sinfonia Concertante at the Waterfront Hall, Belfast, with the Ulster Orchestra under the direction of Spivakov. She then undertook a highly successful summer tour of the Auvergne in duo with harpsichordist Paulina Tkaczyk. In the 2005 / 2006 season she performed several times in Moscow, undertaking various recording projects.
Her recording projects have included working with Damien Rice on his platinum selling album ?9″; working on 3 critically acclaimed EPs with Fovea Hex; performing on the film scores to Screw Cupid and Ferris Wheel, and recordings with The Republic of Loose, Michael Knight, Autamata, Laura Sheeran, to name but a few.
She is a core member of Fovea Hex, has recently joined Yurodny, and is part of contemporary group Ensemble ICC. She has just completed a 26-concert tour of the USA performing Bill Whelan?s ?Inishlacken? as soloist with the Dublin Philharmonic under Derek Gleeson and Colman Pearce ? a further tour of the Far East is planned for 2010, where Cora will reprise Inishlacken and perform Beethoven?s Violin Concerto.
This year she will be recording her first solo album of Bartok and Ravel. She plays a violin by Nicolo Gagliano dated 1738.