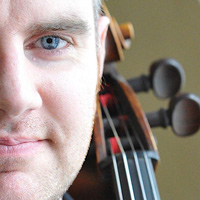 Martin, born 1975, studied Cello under the direction of Anna Shuttleworth, a former student of Pablo Casals, Andrew Shulman, Principal Cello – The Philharmonia, and the British Soloist Alexander Baillie.
In 2000, he joined the RTÉ National Symphony Orchestra and moved to Dublin, where he has subsequently been appointed Section Leader (2004). In January 2008 Martin made his Irish debut as a soloist with the RTÉ National Symphony Orchestra, performing Saint-Saëns Concerto No. 1 in A minor Op.33. He is due make his fifth appearance as soloist with the RTÉ NSO in February 2012 with Delius Double Concerto for Violin and 'Cello, alongside the Orchestras Leader, Alan Smale.
As a soloist, Martin has given performances of Concerti by Robert Schumann, Joseph Haydn, Lalo, Saint-Saëns, Sir Michael Tippett, Corelli, J Ibert, Beethoven's Triple Concerto and Richard Strauss's finest tone poem for 'Cello and Orchestra 'Don Quixote' op.35 with the RTÉ NSO.
Several of his recitals over the past seasons have been critically acclaimed - most notably a recital of four world premieres for solo cello at the Hugh Lane Gallery - all pieces have been commissioned (with the support of the Arts Council, Ireland) from Irish Composers.
Martin has performed throughout Europe, China and the USA. 2010 saw performances on a Chinese Tour with the National Chamber Ensemble of Ireland featuring performances at the Shanghai World Expo. This tour led to the formation of the Altissimo Quintet – a string quintet with two violas, whose members are all performers from the RTÉ NSO. Altissimo has given several concerts and has begun a recording cycle with Producer Ronan O'Reilly focussing on viola quintets by Dvorak, Brahms, Mendelssohn and Vaughan-Williams. To broaden the repertoire, Altissimo has commissioned several new works from contemporary Irish composers, including some cross-genre compositions. (www.facebook.com/AltissimoQuintet)
In much demand as an orchestral musician, Martin is also a regular Guest Section Leader with orchestras in the UK, recently including Opera North and BBC Scottish Symphony Orchestra and Welsh National Opera. In 2006, in recognition of his orchestral work, Martin was invited to become a member of the World Philharmonic Orchestra.
More recently Martin has collaborated with Irish Composer Brian Byrne and Singer Sinead O'Connor for the title track to Glenn Close's newest film Albert Nobbs – The song Lay Your Head Down has been nominated for Best Original Song at the 2012 Golden Globe Awards.
Later in 2012 Martin will give performances of Elgar's 'Cello Concerto in E minor with Ireland's Hibernian Orchestra and recitals which will include Solo Bach as well as the Delius 'Cello Sonata as part of the 150th Delius Anniversary celebrations.
Martin plays a fine cello by Thomas Kennedy of London c.1810.
( content courtesy of http://www.youngeuropeanstrings.com )