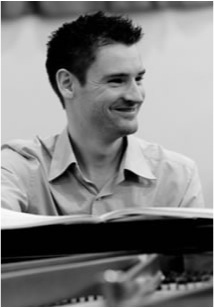 Michael McHale
Gershwin, Rhapsody in Blue
Shostakovich, Piano Concerto no. 2
Wednesday 9 June 2010
National Concert Hall, Dublin
Biography
Belfast-born pianist Michael McHale came to widespead public attention as winner of the 2009 Terence Judd/Hall? Award and has established himself as one of the leading Irish pianists of his generation.
After early piano studies with John O?Conor and Reamonn Keary at the Royal Irish Academy of Music, Michael read Music at Cambridge University, graduating with a double first-class honours degree and all the major performance prizes. He completed his formal studies with Christopher Elton at the Royal Academy of Music, graduating with distinction in 2006.
Michael was featured as a 'rising star' in International Piano magazine as a result of his performance of two Mozart concertos with the Hall? Orchestra at the Piano 2006 festival in Manchester. He won the 2004 Camerata Ireland Musician of the Year and the Brennan and Field Prizes at the 2006 AXA Dublin International Piano Competition prior to his biggest competitive success at the Terence Judd/Hall? Award finals in 2009. The prize includes a recording opportunity with EMI Classics or the Hall?'s own label in addition to a number of high profile concert engagements.
Michael has performed throughout the UK and Ireland, France, Belgium, Germany, Italy, Hungary and USA, including broadcast performances for BBC TV, Radio 3, RTE, PBS television and Deutschlandradio Kultur. Highlights include critically acclaimed d?but recitals in Washington DC and the National Concert Hall, Dublin, concerto performances in Berlin Konzerthaus and V?gad? Hall, Budapest and four performances of Mozart's Concerto for Two Pianos with Barry Douglas and Camerata Ireland. Recently Michael was honoured to perform Rachmaninov's Paganini Rhapsody with the Ulster Orchestra at the re-opening concert of the Ulster Hall, Belfast, broadcast on BBC Radio 3.
Also an active chamber musician, Michael has recently collaborated with distinguished artists such as Richard Watkins, James Galway, Barry Douglas, Patricia Rozario and Michael Collins. September 2008 saw the release of an album of piano trios with Ensemble Avalon on the RTE lyric fm label. The disc was chosen as 'selection of the month' in The Strad, described by critic Julian Haylock as 'one of the highlights of my listening year', while Classical Music magazine's Phillip Sommerich wrote that 'the Beethoven [Ghost Trio] is in the front rank of modern versions on disc'.
An interest in the music of living composers has seen Michael give premi?res of solo piano works by Irish composers Breffni O'Byrne (on RTE Radio) and Philip Hammond (for BBC Radio 3) as well as a collaboration with the celebrated Estonian composer Arvo P?rt last year. Michael recently recorded a CD for Louth Contemporary Music Society featuring solo works by John Cage and Arvo P?rt as well as chamber works by Silvestrov, Knaifel and Gorecki, and he made studio recordings for RTE of four new solo works by Irish composers written for the 2009 AXA Dublin International Piano Competition.
Future engagements include concerto performances with the Hall? and Ulster Orchestras, chamber music concerts in King's Place, London and the Metropolitan Museum, New York, and a solo recital d?but in the Wigmore Hall.